July 11, 2012 – 12:36 pm
There is a new (free) book that I'm a co-author of along Bruce Grieshaber and Larry Jacob (both of LSI) along with foreword by Harry Mason of LSI and President of the SCSI Trade Association titled SAS SANs for Dummies compliments of LSI.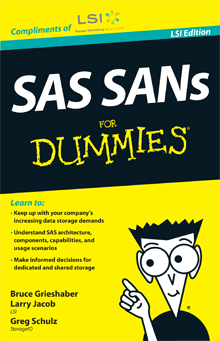 This new book (ebook and print hard copy) looks at Serial Attached SCSI (SAS) and how it can be used beyond traditional direct attached storage (DAS) configurations for support various types of storage mediums including SSD, HDD and tape. These configuration options include as entry-level SAN with SAS switches for small clusters or server virtualization, or as shared DAS as well as being a scale out back-end solution for NAS, object, cloud and big data storage solutions.
Here is the table of contents (TOC) of SAS SANs for Dummies
Chapter 1: Data storage challenges
Storage Growth Demand Drivers
Recognizing Challenges
Solutions and Opportunities
Chapter 2: Storage Area Networks
Introducing Storage Area Networks
Moving from Dedicated Internal to Shared Storage
Chapter 3: SAS Basics
Introducing the Basics of SAS
How SAS Functions
Components of SAS
SAS Target Devices
SAS for SANs
Chapter 4: SAS Usage Scenarios
Understanding SAS SANs Usage
Shared SAS SANs Scenarios including:
SAS in HPC environments
Big data and big bandwidth
Database, e-mail, back-office
NAS and object storage servers
Cloud, wen and high-density
Server virtualization
Chapter 5: Advanced SAS Topics
The SAS Physical Layer
Choosing SAS Cabling
Using SAS Switch Zoning
SAS HBA Target Mode
Chapter 6: Nine Common Questions
Can You Interconnect Switches?
What Is SAS Cable Distance?
How Many Servers Can Be In a SAS SAN?
How Do You Manage SAS Zones?
How Do You Configure SAS for HA?
How Does SAS Zoning Compare to LUN Mapping?
Who Has SAS Solutions?
How Do SAS SANs Compare?
Where Can You Learn More?
Chapter 7: Next Steps
SAS Going Forward
Next Steps
Great Take Away's
Regardless of if you are looking to use SAS as a primary SAN interface, or leverage it for DAS or implementing back-end storage for big-data, NAS, object, cloud or other types of scalable storage solutions, check out and get your free copy of SAS SANs for Dummies here compliments of LSI.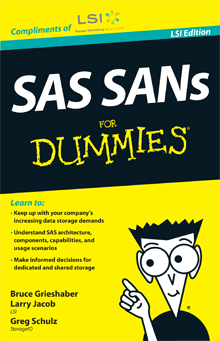 Click here to ask your free copy of SAS SANs for Dummies compliments of LSI, tell them Greg from StorageIO sent you and enjoy the book.
Ok, nuff said.
Cheers Gs
Greg Schulz – Author Cloud and Virtual Data Storage Networking (CRC Press, 2011), The Green and Virtual Data Center (CRC Press, 2009), and Resilient Storage Networks (Elsevier, 2004)
twitter @storageio
All Comments, (C) and (TM) belong to their owners/posters, Other content (C) Copyright 2006-2012 StorageIO and UnlimitedIO All Rights Reserved