October 23, 2011 – 1:17 pm
A couple of weeks ago I traveled down to Orlando Florida for a few days to attend the fall 2011 SNW (Storage Networking World) produced in conjunction by IDG Computerworld and the Storage Networking Industry Association (SNIA).
While at the Orlando event, SNIA executive director Leo Legar asked me how many SNWs I had attended and my responses was on which continent?
My answer was part in fun however also serious as I have been attending SNWs (in addition to other SNIA events) for over ten years in both North and South America as well as in Europe including presenting SNIA tutorials and SNW sessions.
SNW is always good for meeting up with old friends and acquaintances along with meeting new ones including twitter tweeps (hashtag #snwusa #snw2011 @sniacloud @snwusa) and the recent event was no exception. Granted SNW is smaller than it was during its peak in the mid 2000s however it was great to go for a couple of days of meetings, checking out the expo hall and some sessions as well as getting out and about meeting people involved with servers, storage, networking, virtualization, cloud, hardware, software and services.
SNW remains as its name implies (Storage Networking World) an event around networking as in conversations, learning, knowledge exchange, information gathering and meetings not to mention the hands on lab. I found the two days I was there adequate to get the meetings and other activities I had planned, along with time for impromptu meetings. ANother observation was that during the peak of the large mega SNW events, while there were more meetings, they were also much shorter along the lines of speed dating vs. those a couple of weeks ago where there was time to have quality conversations.
Some of the news at the recent SNW event, involved SNIA and their Green Storage Initiative (GSI) announcing the availability of the Emerald program Green IT storage energy metrics that have been in the works for several years. The SNIA Emerald program consists of specifications, taxonomies, metrics and measurements standards to gauge various types of storage power or energy usage to gauge its effectiveness. In other words, yes, Green IT and Green storage are still alive, they just are not as trendy to talk about as they were a few years ago which a shift in focus towards productivity, effective use and supporting growth to help close the green gap and missed IT as well as business opportunities.
Also during the recent SNW event, I did a book signing event sponsored by SNIA. If you have not done so, check out the SNIA Cloud Storage Initiative (CSI) who arranged for several of my new book Cloud and Virtual Data Storage Networking to be given away. Book signings are fun in that I get to meet lots of people and hear what they are doing, encountering, looking for, have done, concerned or excited about. It was handy having SNIA CSI material available at the table as I was signing books and visiting with people to be able to give them information about things such as CDMI not to mention hearing what they were doing or looking for. Note to SNIA, if we do this again, lets make sure to have someone from the CSI at the table to join in the fun and conversations as there were some good ones. Learn more about the activities of the SNIA CSI including their Cloud Data Management Initiative (CDMI) here.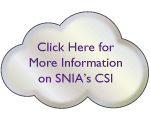 Thanks again to SNIA for arranging the book signing event and for those who were not able to get a copy of my new book before they ran out, my publisher CRC Press Taylor and Francis has arranged a special SNIA and SNW discount code. To take advantage of the SNIA and SNW discount code, go to the CRC Press web site (here) and apply the discount code KVK01 during checkout for catalog item K12375 (ISBN: 9781439851739).
Thanks again to Wayne Adams (@wma01606), Leo Legar and Michael Meleedy among others who arranged for a fantastic fall 2011 SNW event along with everyone who participated in the book signing event and other conversations while in Orlando and to those who were involved virtually via twitter.
Ok, nuff said for now
Cheers gs
Greg Schulz – Author Cloud and Virtual Data Storage Networking (CRC Press, 2011), The Green and Virtual Data Center (CRC Press, 2009), and Resilient Storage Networks (Elsevier, 2004)
twitter @storageio
All Comments, (C) and (TM) belong to their owners/posters, Other content (C) Copyright 2006-2011 StorageIO and UnlimitedIO All Rights Reserved